THANK YOU, LVMS community, for your overwhelming support of our Toys for Tots drive! Special shout out to our student leaders for all of their help, too! Thank you, also, to our partners at the Washington Township Police Department for coordinating this event each year, and for your enduring support of our schools! May your holiday season be safe!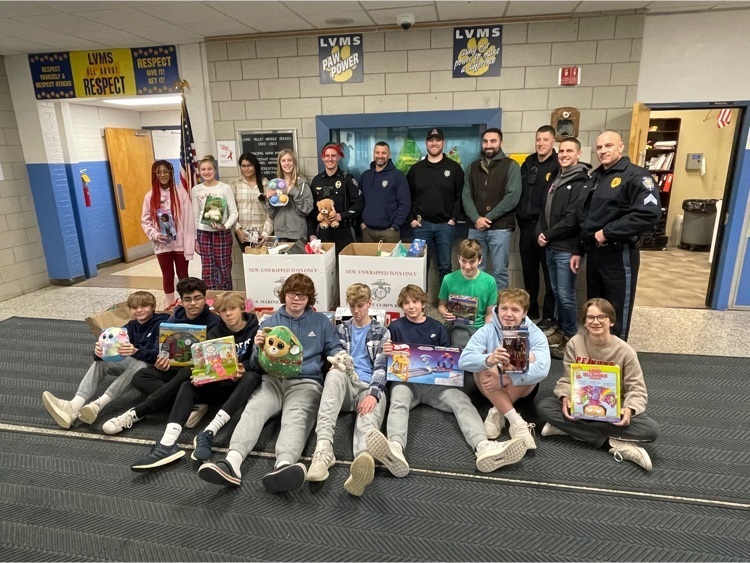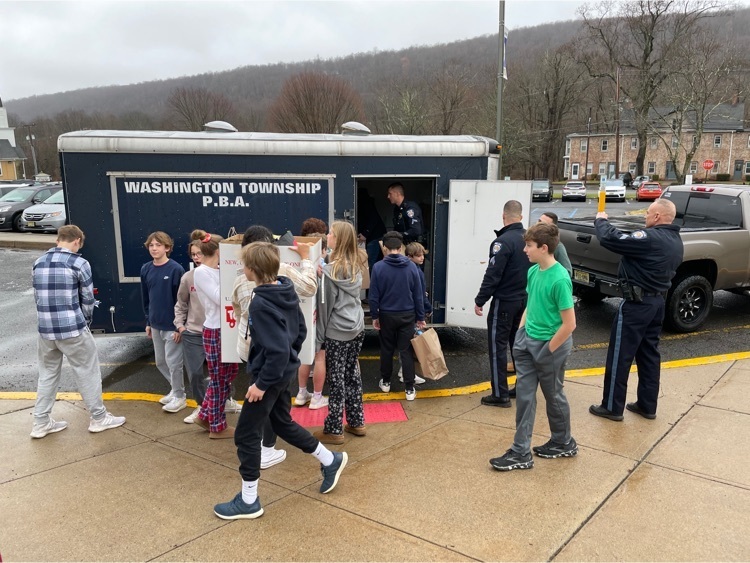 Happy Holidays from the LVMS Book Club! The club celebrated their annual holiday gathering with a book exchange.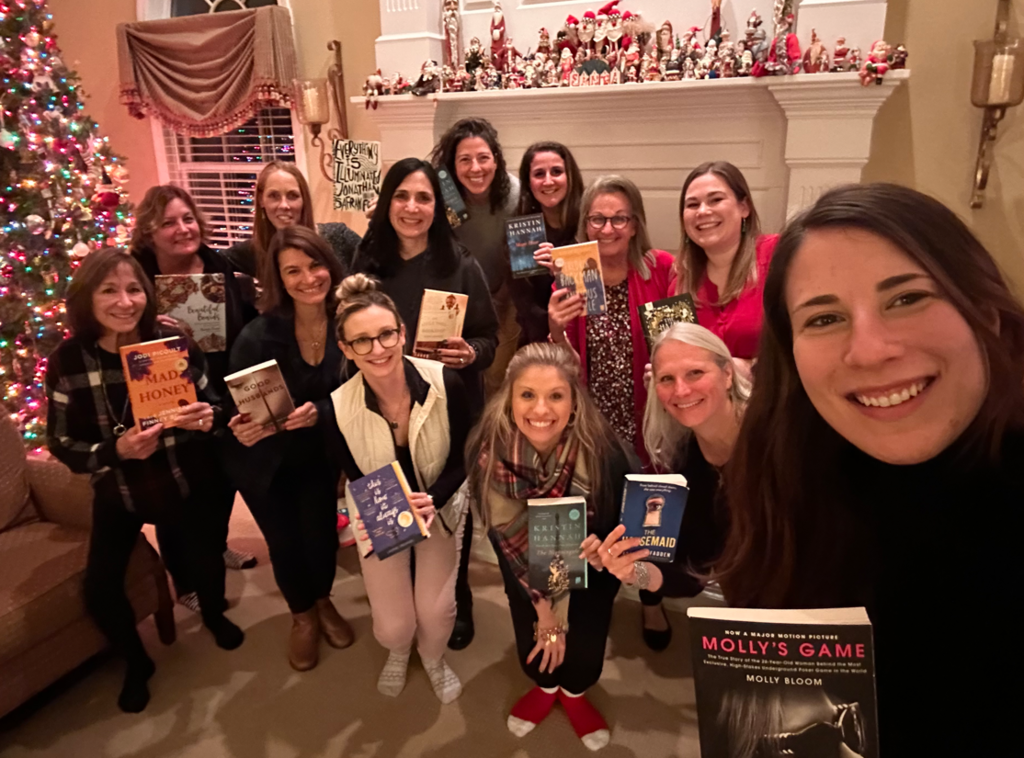 Please join us and other LVMS parents for our monthly PTA meeting TONIGHT, 12/14, 7 p.m. in the LVMS Library. This is a great way to meet new friends & stay up to date on what is happening in our school!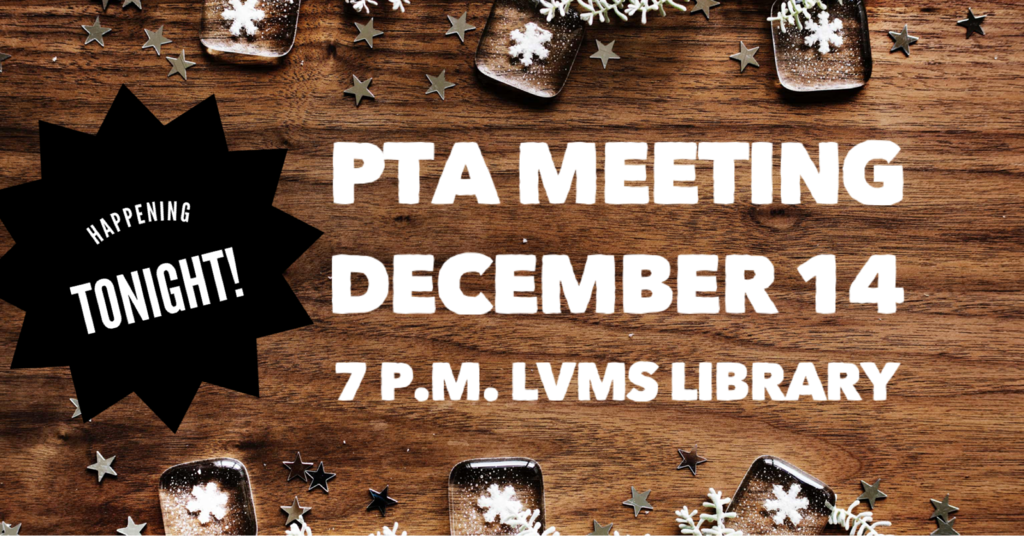 Join us on Friday, December 16th for the 6th Grade Social hosted by the LVMS Student Council! When: Friday, December 16th Time: 3:30 - 5:30 PM Tickets: $5 per person - sold during lunch this week (12/12-12/16) **No tickets will be sold at the door** Food: Pizza, Snacks, and Drinks will be served Activities: Karaoke, knock out, nok hockey, ping pong, fooseball, movies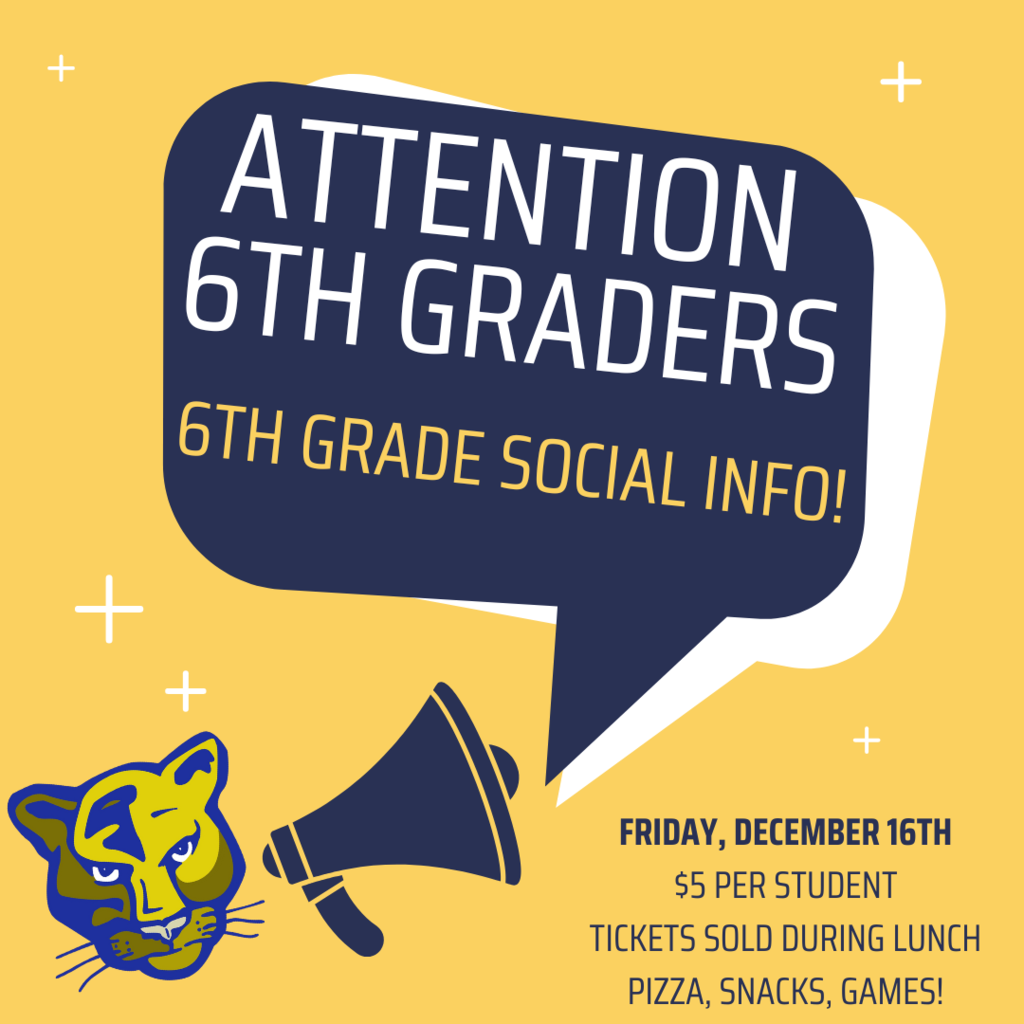 Sgt. LaGuerre and Asst. Prosecutor DeNegri presented to all of our students on "Technology Safety" yesterday afternoon. A special Thanks to the LVMS PTA for organizing this presentation.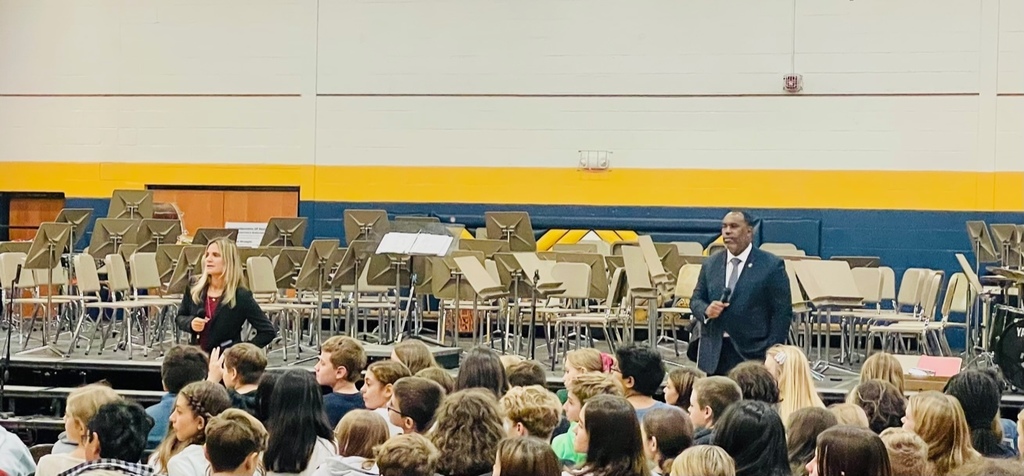 Our band, orchestra, and choir students sounded great in the student performances yesterday and today! Don't forget to join us tonight at 7:00 PM for the Orchestra Concert and tomorrow at 7:00 PM for the Band and Choir Concert.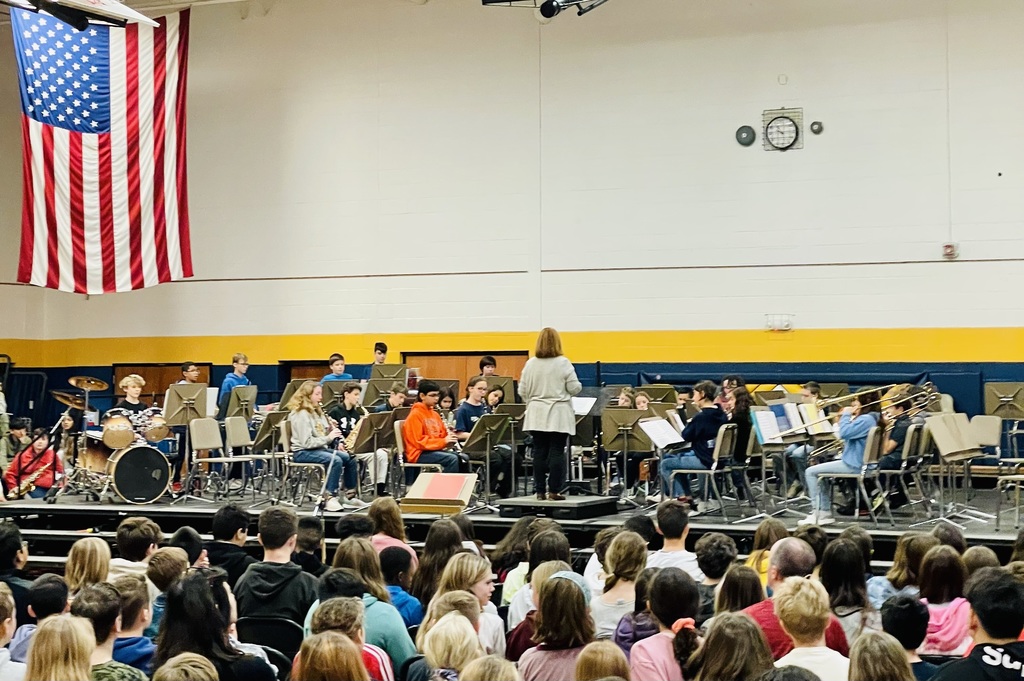 Attention 8th Grade Students and Parents: Be on the lookout for high school registration information from West Morris Central High School this month! Online registration directions will be mailed to your home this month from WMCHS. Registration must be completed ELECTRONICALLY by January 27, 2023. Please submit a copy of your student's birth certificate to your student's LVMS homeroom teacher by January 15, 2023.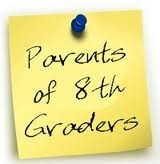 The PTA's annual Holiday Shop for our LVMS Students starts next week. A big thank you if you've volunteered to take a shift. We still have slots open Tues-Fri. Please sign up so our kids can have fun shopping during this season of giving!
https://www.signupgenius.com/go/4090948acac2ba3fe3-holiday2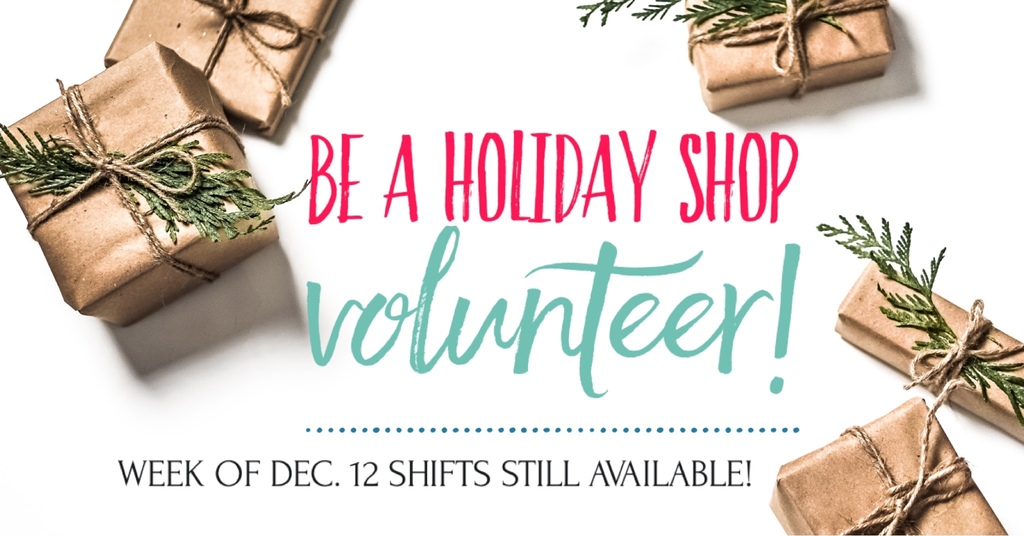 Spanish Club member Sophia Ruiter-Lopez gave the Spanish Club a lesson on the cultural significance of the Mexican Piñata. She created one at home and brought it into school to share with the club.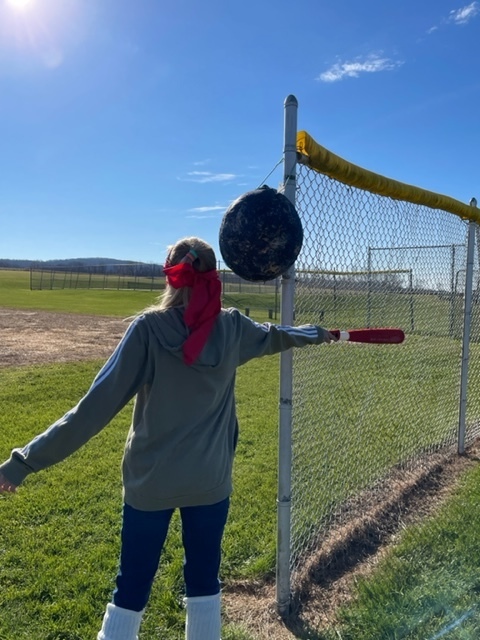 Found this graffiti on a rarely used whiteboard @ LVMS. #TheKidsAreAlright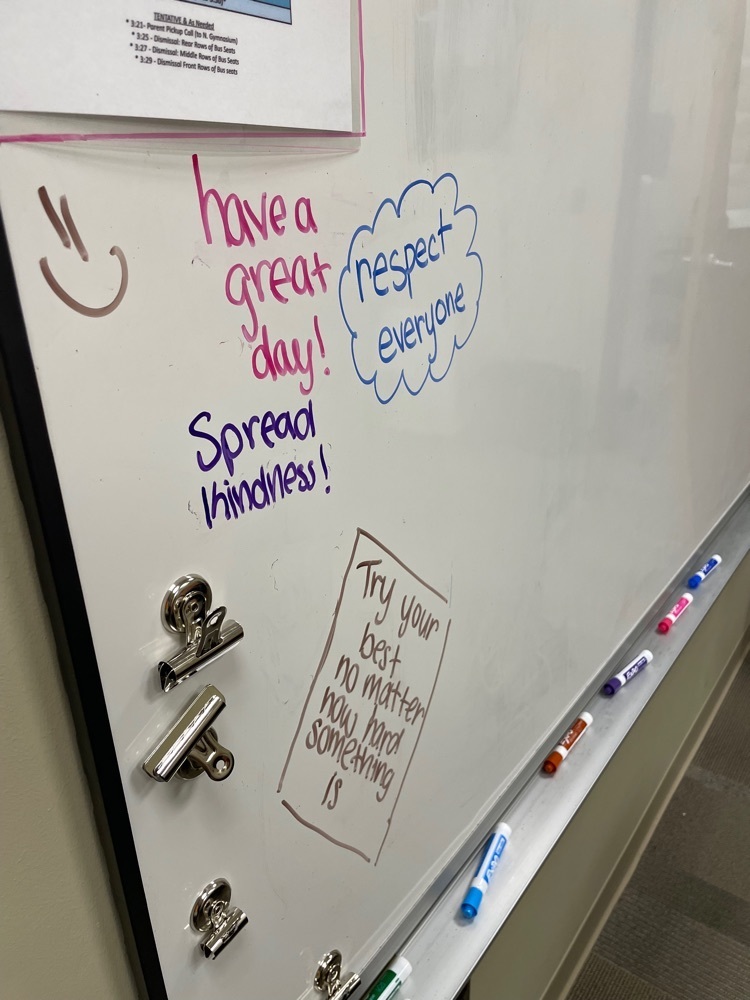 Mr. Ferrante's STEM classes have been focusing on the engineering design process. They recently refined bottle rocket designs and in the process of building them based on their blueprints. Students will fly their designs again soon to compare the original design to their new prototypes.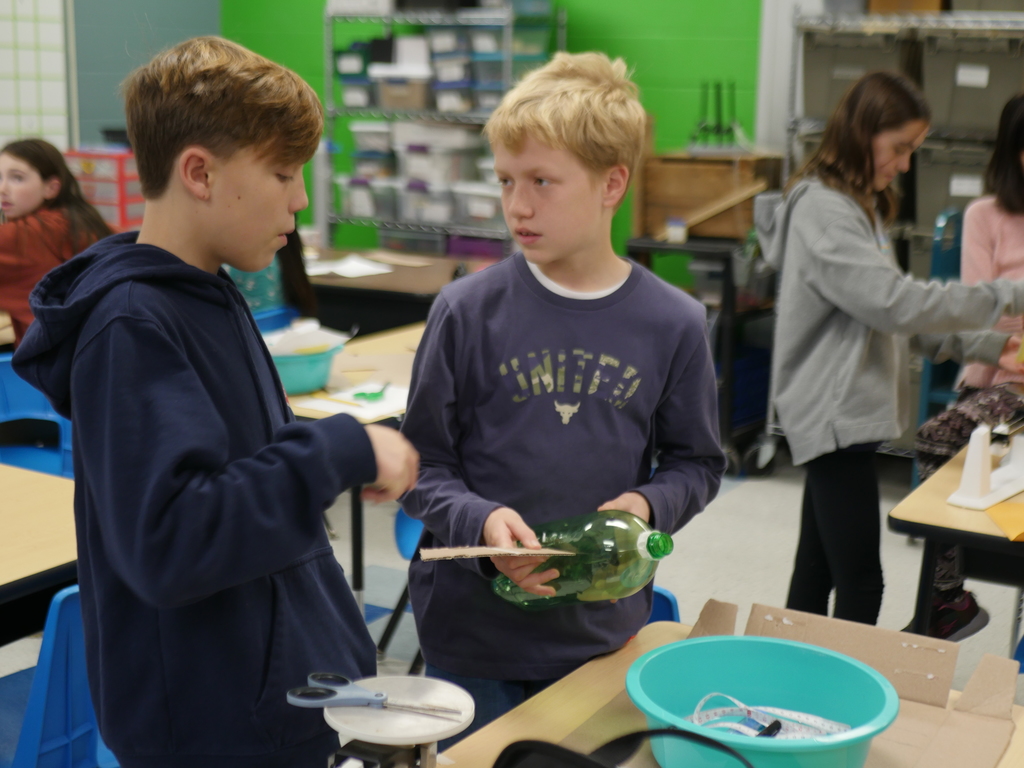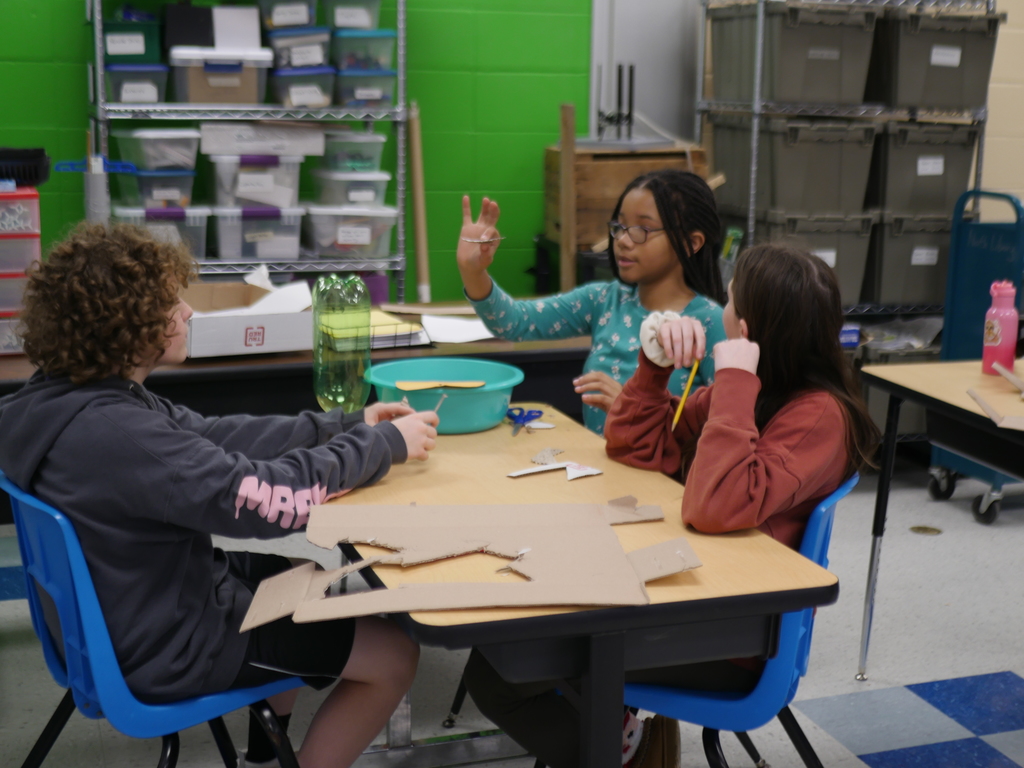 LVMS will be hosting a Holiday Concert to benefit Toys for Tots. Any student that donates new, unwrapped toys for the Toy Drive will receive an invitation to the Concert. All donations must be submitted before Friday, December 16th.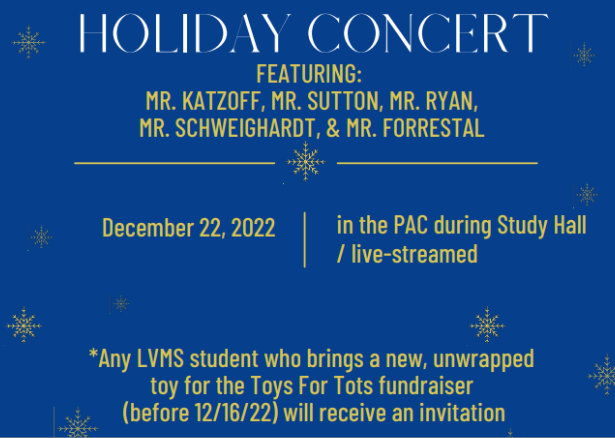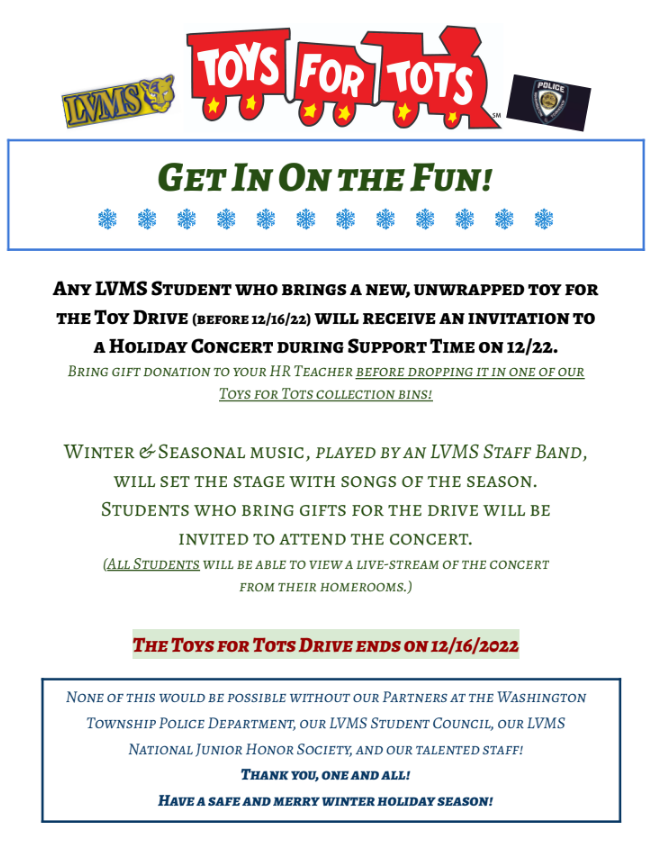 In small groups, Ms. Lee's 8-3 ELA class discussed and voted on the best books from their independent reading to recommend to their 8th grade peers. They read books about disability awareness, horror, and/or thriller and crafted a short recommendation to go along with their suggestions.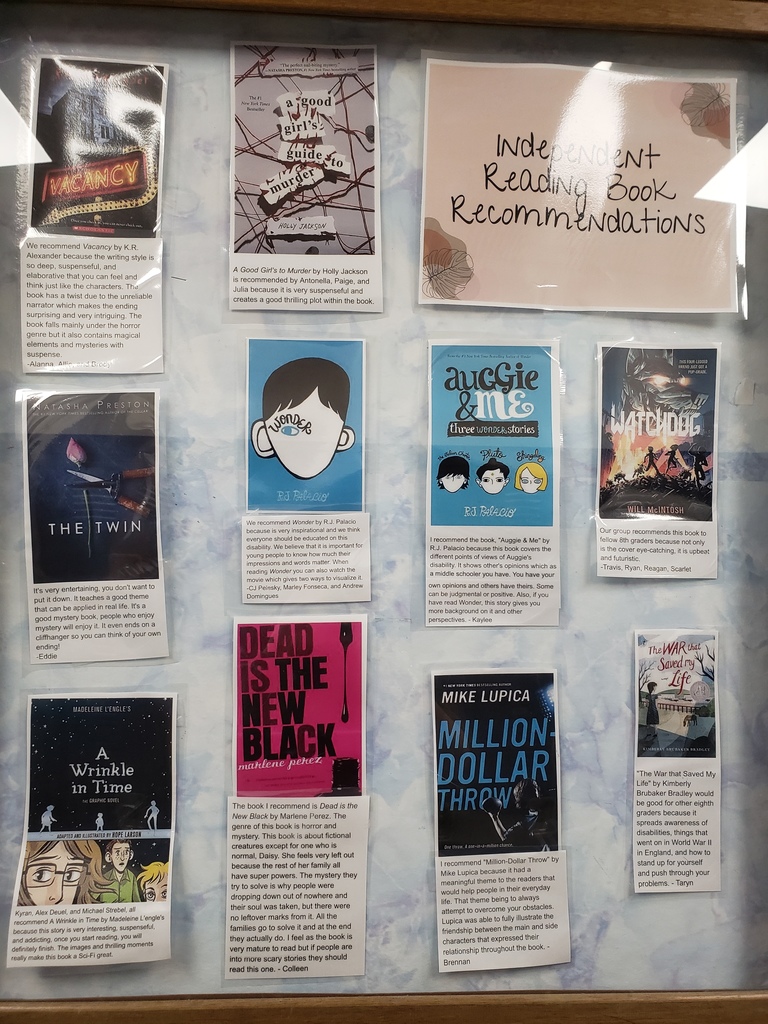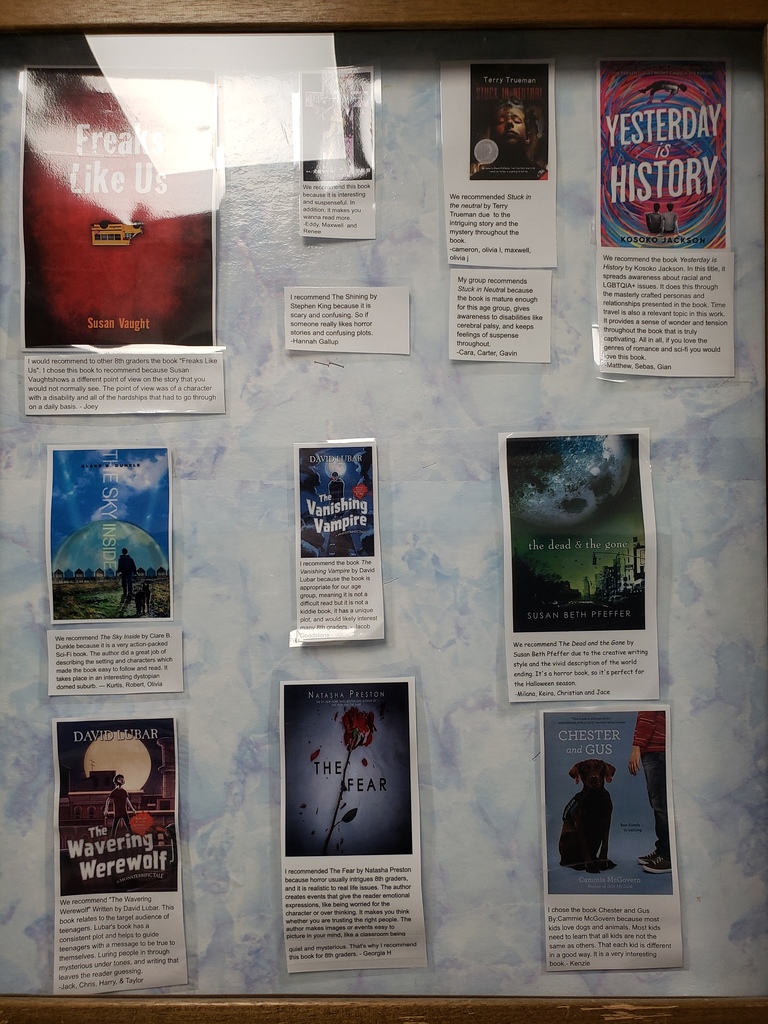 Last week was College Day at LVMS! Students and Staff participated in a Spirit day, wearing their college gear. Students were encouraged to ask their teachers about their college experiences and what led them to their chosen career path.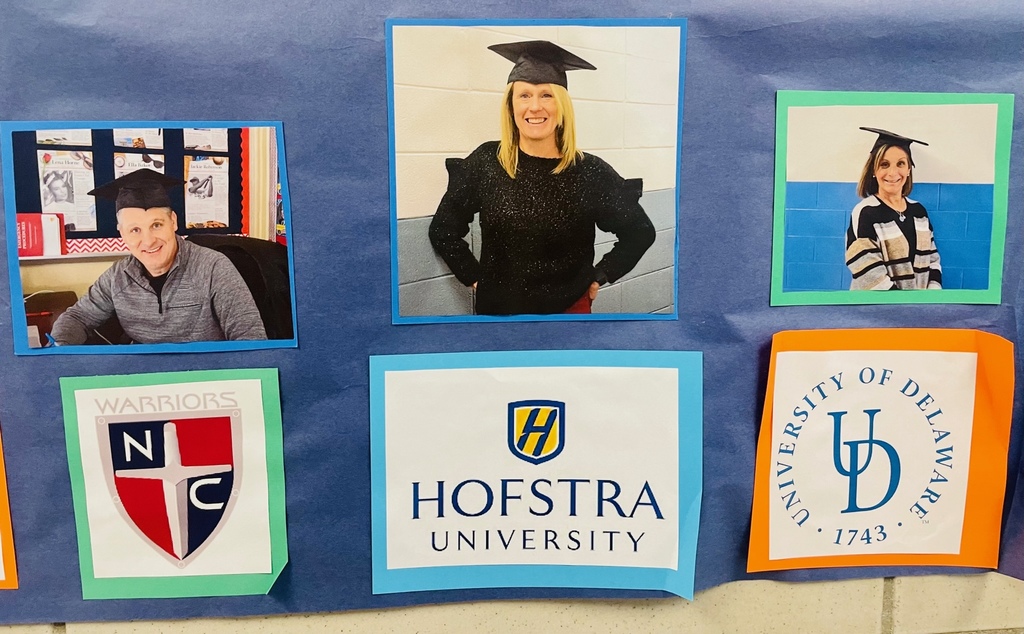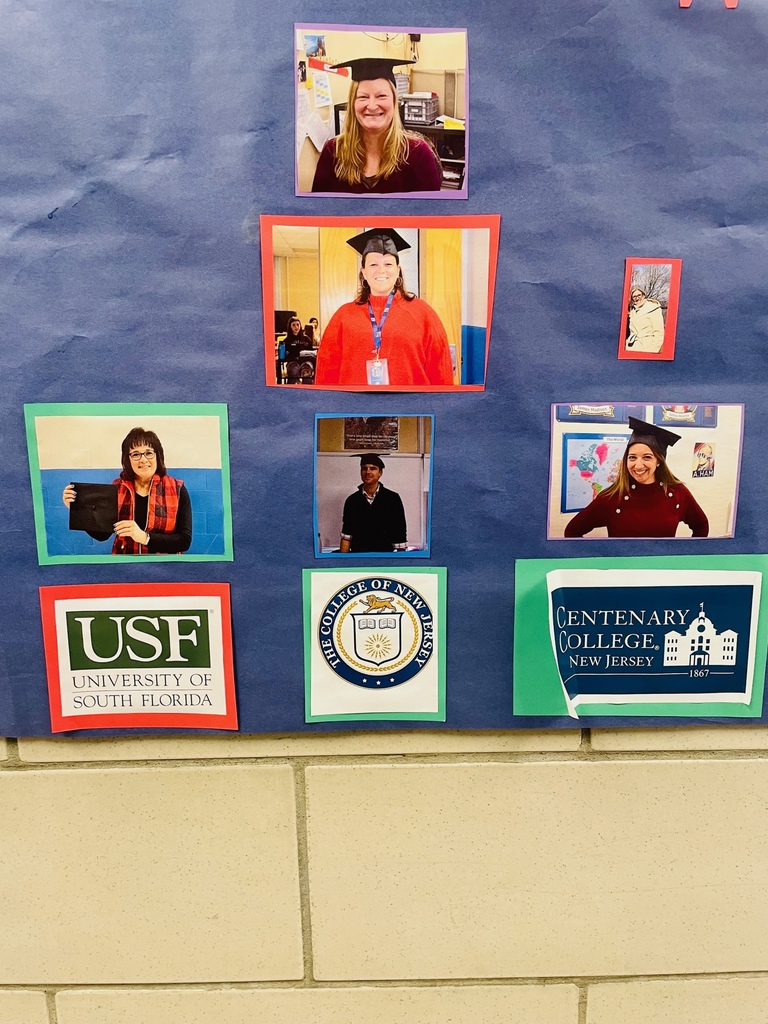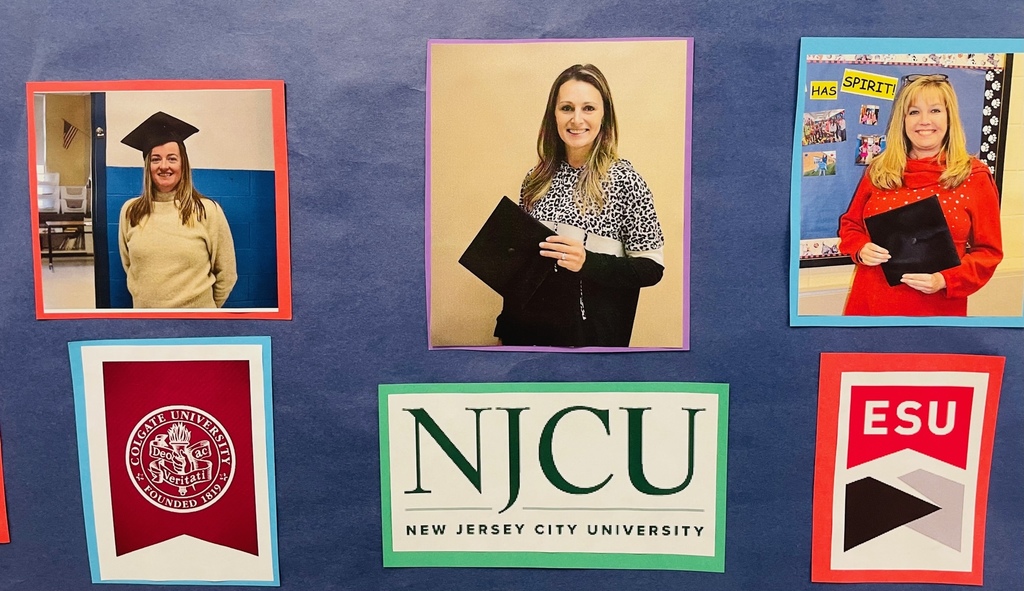 Sponsored by the National Junior Honors Society, Friday, December 2nd is Holiday Movie Night at LVMS! When: Friday, December 2nd Time: 6:30 - 9:00 PM Where: LVMS What Will Be Shown: Home Alone, Elf, and the Polar Express Free for 7th and 8th Grade students to attend ; Drinks / Snacks will be sold by the NJHS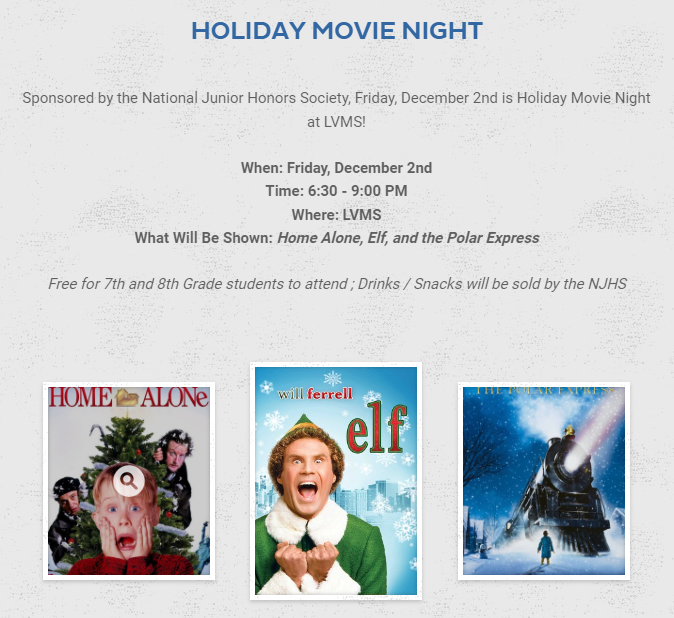 We hope all of our LVMS Families, Students, and Staff have a Happy Thanksgiving!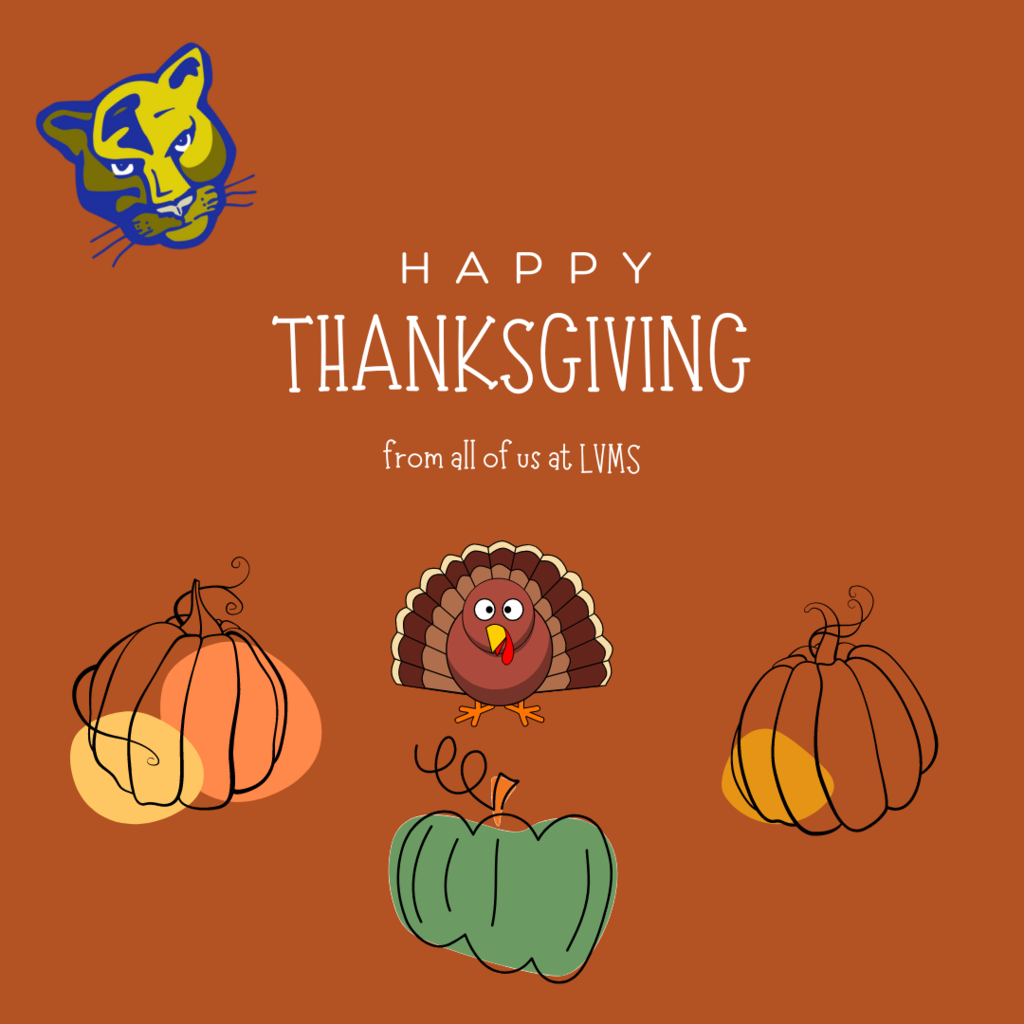 Thank you Long Valley Junior Women's Club for sponsoring our Pet Therapy visit today! Students and staff enjoyed spending some time with the two therapy dogs, Maggie and Misty.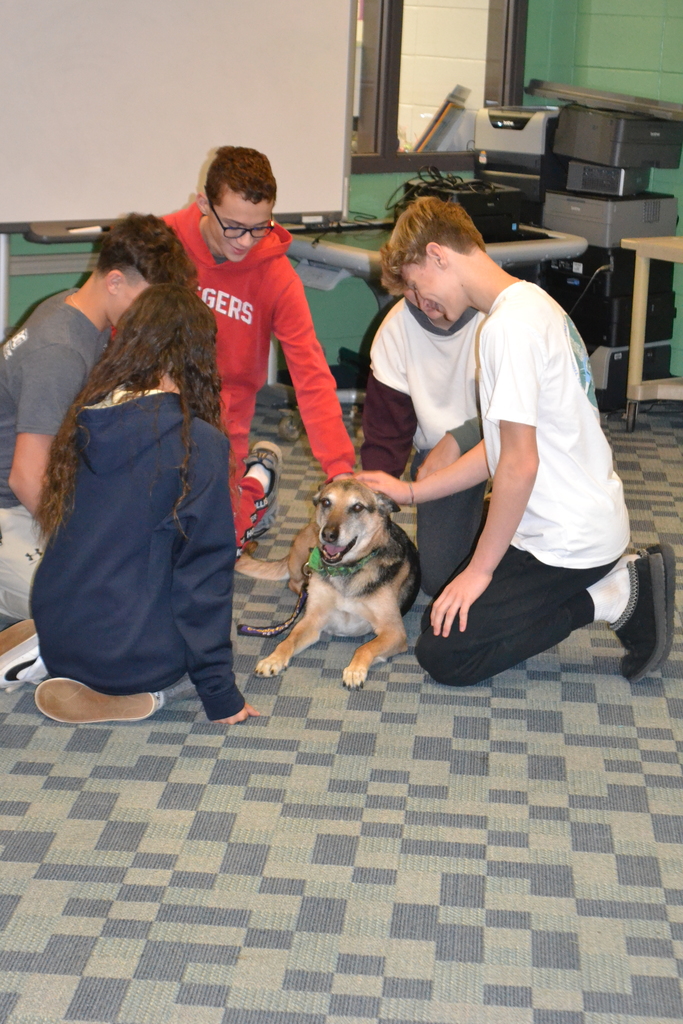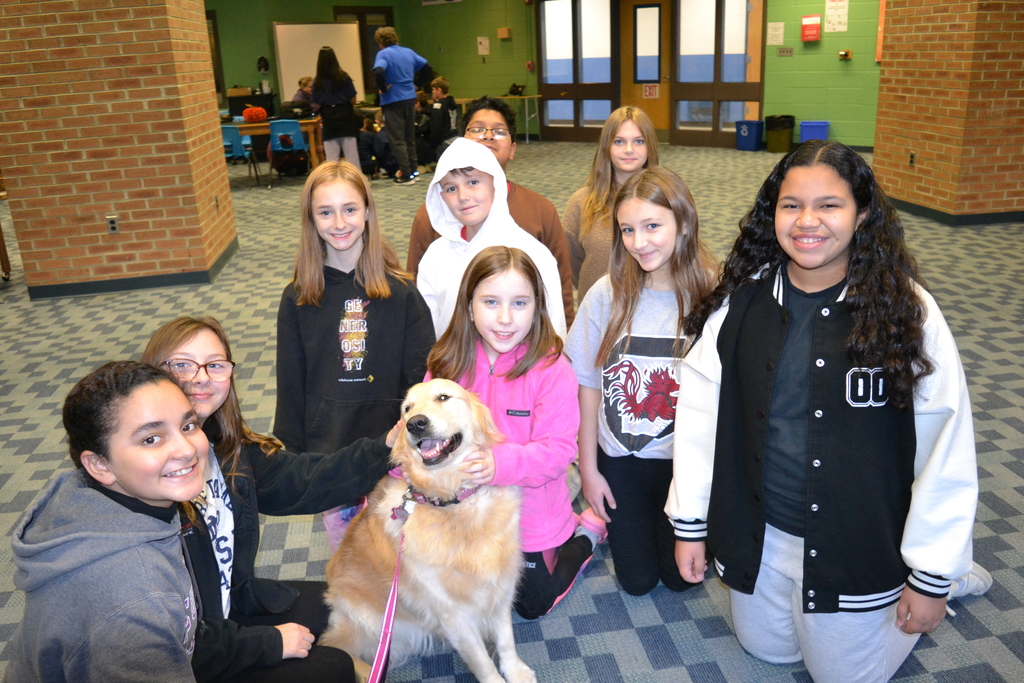 Get In On the Fun!! Any LVMS Student who brings a new, unwrapped toy for the Toy Drive (before 12/16/22) will receive an invitation to a Holiday Concert during Support Time on 12/22. - Bring your gift donation to your HR Teacher before dropping it in one of our Toys for Tots collection bins! Winter & Seasonal music, played by an LVMS Staff Band, will set the stage with songs of the season. Students who bring gifts for the drive will be invited to attend the concert. (All Students will be able to view a live-stream of the concert from their homerooms.)
https://bit.ly/3tPsCk3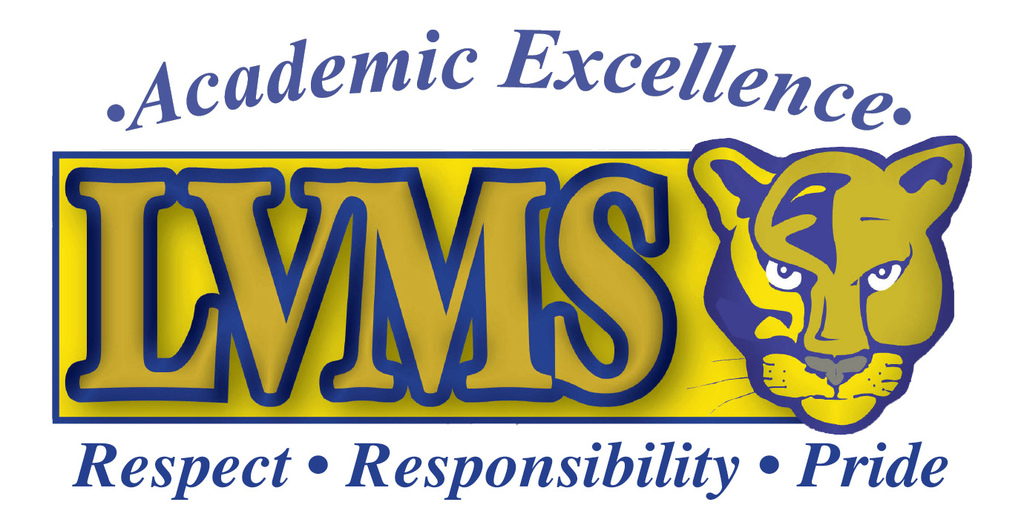 Mrs. Bohrer's 8th grade STEM classes worked collaboratively to make pulley powered cars!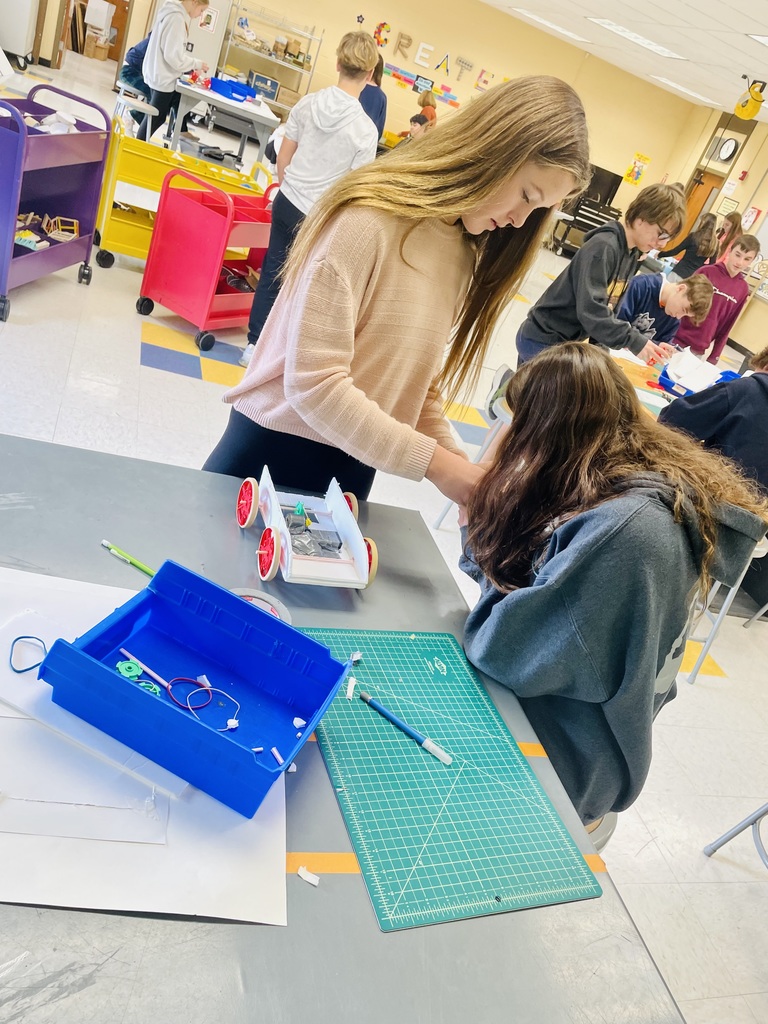 8th Grade students and families... Register for the 8th Grade Skate Social happening Thursday, 12/1, 6-8 p.m. at the newly updated Villa Roller Rink. Don't miss out on this fun event! Get your tickets here:
https://lvms.memberhub.com/store